Oh, were you expecting a tech article? Nope. For the first article of 2022, I'm shifting gears (pun intended) and starting off with an automotive entry, specifically why we decided to trade in our Honda Odyssey for a Volvo XC90.
Some Background
At the time, there were two kids running around and one of them was still in a full-sized car seat, so it made sense for us to buy a minivan – especially when our previous SUV started having issues. Back in school, both my wife and I both had Hondas (or Acuras in my case, same difference) and we decided between the convenience, size, and perceived reliability, that the 2018 Honda Odyssey was the best choice.
So it was, a new 2018 Odyssey.
The Pros of a Honda Odyssey
There is a cult following of minivans, they're big and built for people that continually haul lots of people and stuff…you probably already know these, but I'll just go through them:
Seating and Space for kids, the whole reason you have a vehicle designed to haul lots of people, fairly comfortably; 3rd row access is simple, LATCH everywhere – including 3rd row and middle seats. Tons of storage space and cup holders too – throughout the car. This is really the primary reason to get one of these vehicles.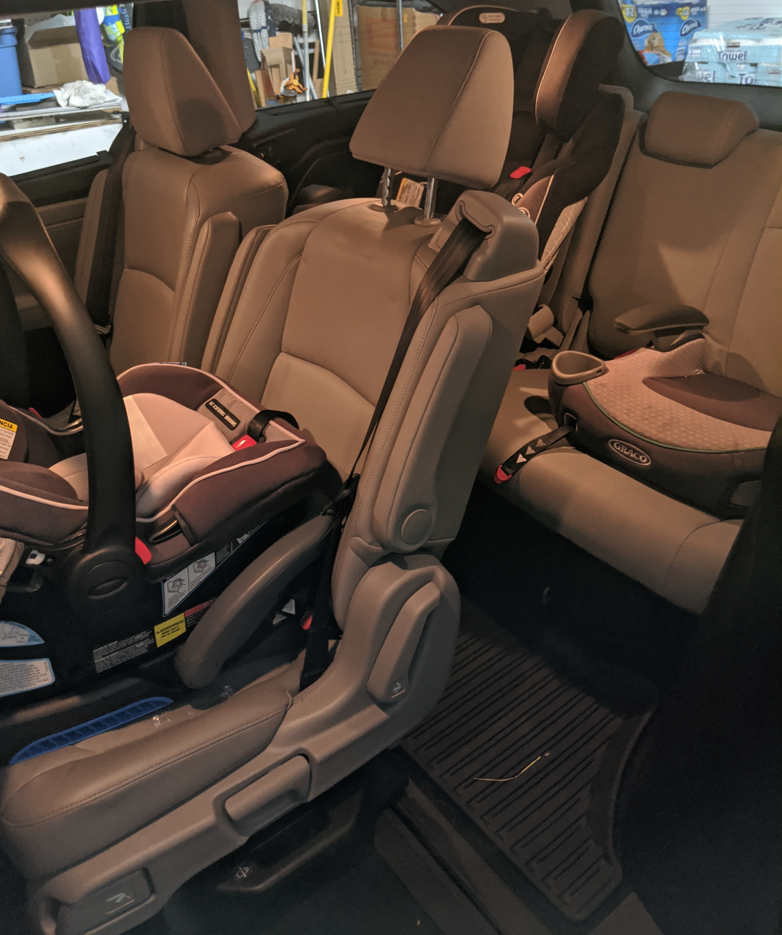 Sliding Doors ease the stress with children that like to open doors violently. Plus, you can open and close them from the drivers seat.
Built for a Family with little features like the middle row camera (cabin talk), rear seat entertainment (with HDMI inputs and tons of USB charging), and the ability to talk into the headsets (cabin talk) of said entertainment set
The Cons of [our] Honda Odyssey
The problems started quickly for us, with the first problem being a blank infotainment screen. Granted it came back after some time, but this was within the first 1,000 miles of owning a new car. NOT a good sign. Here are the problems we ran into during ownership of the car, in roughly the order they happened:
Minor Issues
Blank infotainment screen or a mostly blank screen with a power failure error; this occurred frequently, but was really only a nuisance. (not fixed)
Driver door handle and lock malfunction – this happened when the car unlocked the doors via the door handle unlock request was used (basically grabbing the door handle with the key in your pocket). The problem seemed to arise when the unlock occurred at exactly (or very close to) the same time as the door handle was pulled, and the door handle would simply not open the door. After several door lock\unlock cycles and frantic pulling on the handle, eventually the door would open. (the dealer fixed this once, though it was starting to happen again)
Sticky power sliding doors – from time to time, the power sliding doors would stop and reverse as though something was in the way of closing. We had to either try to close them again or push-assist them closed by hand. (not fixed)
Major Issues
Car ECM\power failure\limp mode – I'm not sure exactly what happened here. Essentially, the car went into limp mode due to some major fault, and lit up the dashboard (Christmas tree). Additionally, all of the safety systems (blind spot monitoring, lane departure warning, adaptive cruise control, etc) were disabled, and several major 'System Problems' were reported. (The dealer had to contact the Honda tech line and eventually replaced a part under warrantee. This did not happen again after the fix)
Transmission TCU recall\Stall – the car stalled and would not shift from neutral while sitting at a stop light, plain and simple. (this is actually a recall, and the dealer repaired\re-programmed at a later time)
WHAT IS HAPPENING?!
Severe transmission fault\auto start-stop fault – this was the last straw. This was the first car that was equipped with an auto idle start-stop system. It's a bit odd and took some getting used to. The problem was the car would shut off the engine during a start-stop event, then fail to restart it. The car stalled, requiring several attempts to power off and on. This happened once or twice in a neighborhood which were not too big of a deal. The big deal happened at a stop light when this happened again, this time showing a warning on the dash for 'Transmission fault'. On a road with a 45mph speed limit. Around a slight curve with low visibility. We decided to trade in the vehicle at this point, you know, while on the side of the road. Hoping that people would slow down and not slam into us. (the dealer did not see any stored faults in any control module and was not able to replicate the issue. I suggested a battery replacement, which appeared to resolve the issue. I had to pay out of pocket since it is a consumable, and we didn't own the vehicle for much longer after this)
Our Choice – a Volvo XC90
I won't discuss all of the different vehicles we looked at, you know what your needs are, I will only say that my Wife test drove a Volvo, and it was pretty much a done deal. Safety is a major concern for us, so the Swedish car makes sense. We were also pleased to find out that the T8 model is a plug-in hybrid electric vehicle (PHEV). Put this together with our 5KW solar array, and we found a very efficient and comfortable option.
Also, if you haven't seen the review by Jakub and Yuri over on The Straight Pipes, it's worth taking a look:
Things You Might "Miss"
To be clear, we are exceedingly happy with this new vehicle, especially in favor of the Honda Odyssey. However, there are some cons when coming from a large minivan so lets get them out of the way first:
Storage Space is not as abundant in the XC90. It's a good sized SUV, but it's not anywhere near as large as the odyssey. The other odd issue is that the storage under the drivers arm rest is TINY! This is caused by the EV battery location, this is likely not an issue on T5/T6 models.
2nd Row Amenities don't match those of the Odyssey, but this was something that we knew going in. It was a conscious choice to not have a rear entertainment system for the kids. There are only a few cupholders when the middle seat is occupied.
Accessing the 3rd Row is no where near as easy in the Volvo. As you would expect, the minivan was far superior in the area of 3rd row access and getting in and out of the vehicle. That said, considering the issues we had with the sliding doors, this doesn't really matter.
That's honestly it.
Why the XC90 is a Great 3-row PHEV SUV
There are other 3-row options out there, but for the most part, they are hybrids. The one notable exception is the Lincoln Aviator GT, but we found the Volvo to be a much smoother drive. The Volvo was also smoother when alternating between the electric motor and gasoline engine. You might think that the 18 miles of pure EV is silly and you will use the gas engine anyway. That may be true in your case – but not for us. Unless we are getting on the highway for an extended drive, or going on a long trip, we almost exclusively use the electric motor. We don't use any gas on the trips to school, the grocery, or daily shopping.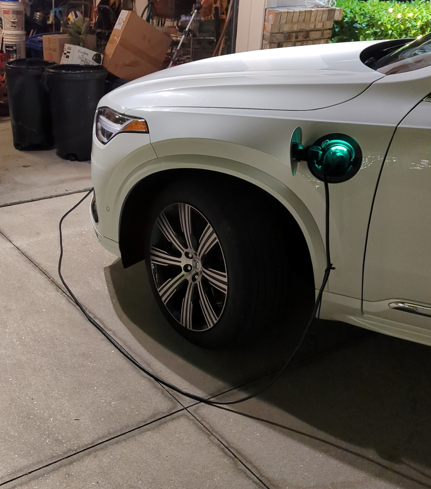 Overall, the XC90 is a pleasure to drive and has been a flawless experience for us. The seats are vastly more comfortable than the seats in the Odyssey, and the overall ride comfort is exceptional. Charging is easy and quick with level 2 in our garage. If your in-laws happen to have a spare 20A 240V receptacle near where you park, then level 2 charging makes trips to their house that much easier (ours do). Be aware that this is a relatively small battery pack, not meant for long trips. In order to keep the battery fully charged between trips, you will need to get used to plugging in at home.
There is a bit of a learning curve with the electric motor, most obvious is the fact that it isn't the fastest thing in the world. Becoming comfortable with the pedal position in hybrid mode may take some time. When in pure mode, you need to make sure you are not pulling out to close in front of anyone. If you do, you will need to use the kickdown pedal and fire up the gas engine. When the car switches from electric motor to gas engine (and back), it is completely seamless. We find that it frequently goes unnoticed.
Final Thoughts
I know better than to buy the first model year after a major refresh, but I never expected to have so many problems given our history with Honda. And I know what you are thinking, "You're less than 10,000 miles into this new car, you WILL have problems later!!". I am inclined to agree, but given how many issues we had almost immediately with the previous car, we're already in better shape.
If anyone from Volvo is reading this, please make the upcoming long-range battery packs and electric motors backwards compatible with older models. I would happily pay for them when our current battery reaches its end of life.