I recently upgraded my wireless AP in an effort to stream live TV wirelessly (more on that later). The new AP is a dual-band N capable model from Cisco – it replaced a G model from NetGear. Ever since then I noticed that our phones would CONSTANTLY disconnect then reconnect to the wireless in our house. This only happened at home – it didn't happen in the office.
Looking at the configurations I noticed the only real difference – I had enabled Wireless Multi-Media (WMM) to get 300Mbps instead of 150Mbps – again, all trying to get as much throughput as possible for Live TV.
It turns out that the Samsung Galaxy S2 is not compatible with WMM…in fact it is not compatible with all the MCS rates of wireless N. Needless to say, I disabled WMM and the issue went away. Here's a screenshot of the web config of the AP: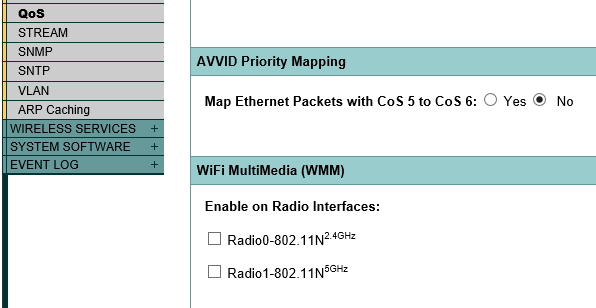 This is located under Services > QoS > Advanced Tab for Cisco 1200 series APs.