Comcast has been touting a new "feature" to try to keep up with Verizon FiOS – it is all over radio ads and TV commercials…they have 'The fastest In-Home WiFi'! Way to go, Comcast – let's make a bogus claim, not back it up and confuse customers while you're at it! First let's compare the most common Internet speeds from both providers:
Comcast: 50Mbps down, 10Mbps up – $75 per month
FiOS: 50Mbps down, 20Mbps up – $75 per month; includes digital voice phone service
So Comcast falls behind there. Next lets address the WiFi claim as noted here: http://corporate.comcast.com/comcast-voices/nations-fastest-internet-provider-now-provides-fastest-in-home_wifi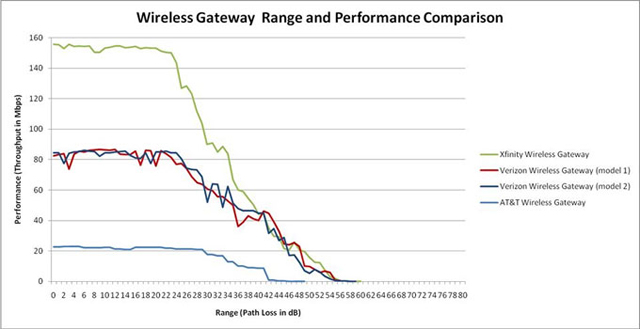 Clearly, the Comcast gear has a maximum data rate around 150Mbps, while the Verizon data rate maxes out around 85Mbps. So for the 50Mbps down that most Comcast customers are using, the 'Fastest in-home WiFi' is getting you…..absolutely nothing. Well – you can move files between computers on your network faster on Comcast…but if you're doing that, you probably know enough to use your own wireless access point
It also doesn't help that the fastest speed tier from Comcast (~300Mbps) is not available in all areas. And if you have that, none of the above wireless gateways will do you any good.
It should also be noted that any 10/100 adapters will limit that 300Mbps speed – so my point: If you are going to buy (need) a speed tier that exceeds 100Mbps, you're likely smart enough to use your own gear.
Thanks, but no thanks, Comcast. I'll stick with my FiOS fiber-to-the-house connection.