Just got most of the upgrade done for my home RDS setup- upgraded the TS box from 2008 to 2008R2 – thus making it an RDS box (Terminal Services is no longer…it is now Remote Desktop Services). I also upgraded the Web Portal\RD Gateway to a 2008R2 box. I have got to say, with the upgrade are some MUCH NEEDED improvements.
One thing I had never tried before was the Desktop Composition remoting (aero glass via RDC) and it's just cool. While not the greatest over a slow connection, it's cool to have all of the nice aero glass features- including peak and snap.
Next- my list of much needed improvements:
An actual logon page as opposed to just a credential window (see screenshot below)
Overall better UI – just looks cleaner, more better
Single sign on for Remote Apps – THANK YOU! Signing in twice was SUCH a pain. Now, as long as the RemoteApp program is digitally signed, and the certificate is trusted, you won't have to logon twice. For more info, checkout this post.
Better overall response because it's the R2 version of 2008
RemoteApps via RDS Gateway – secure applications over the web (this was present in 2008, but I just love it)
RemoteApp and Desktop Connections on Win7 client – I may never install Office apps on my gaming rigs ever again!
Icons show what the application is with a small RDC overlay (instead of just an RDC icon), and for the most part, they tile correctly, instead of piling ontop of each other…except for MMC tools, but that's OK (see 2nd screenshot below)
Hyper-V management is better on R2 – but that's just a bonus since I upgraded the Session Host to R2
Ability to limit what each user or group sees in the web interface- even though you should still use GPO to prevent launching other applications – this again just makes the interface that much better
Screenshot 1: The login page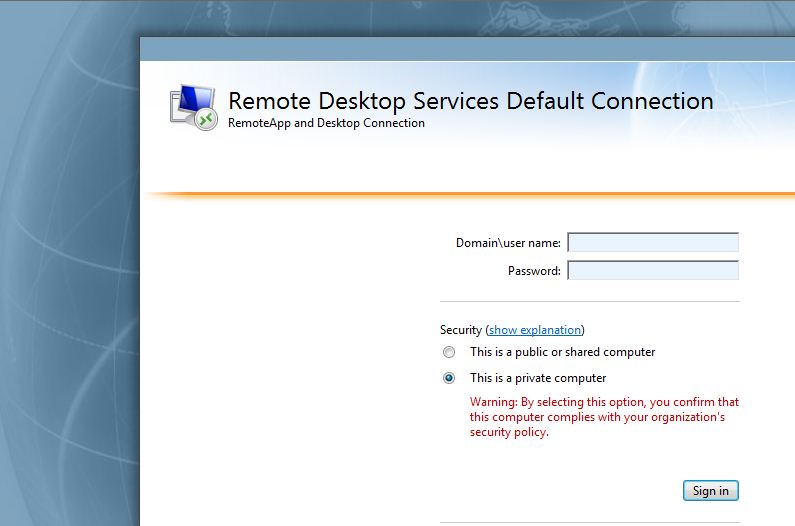 Screenshot 2: RemoteApp icons in Win7

And here's my small list of "complaints":
The input capture window when using VM Connect windows can still be painful…especially with my widescreen laptop. I will likely investigate this again at some point.
The title of the Web Interface cannot be changed from "Remote Desktop Services Default Connection" unless there is a Session Broker in the environment….which I don't have……yet.
Once again…I need more RAM.