Ice Cream Sandwich has been out for quite some time – and I'm sure that it's already been running, in one form or another, on the Galaxy S2 (custom ROMs, etc). Not me – I never got around to rooting or installing custom ROMs, or jailbreaking, or any of that on any of my phones. So that said, I've been relying on AT&T for all software updates, and lets just say that both of our GS2s were hit with the UCKK6 bug that chewed through battery like nobodies business.
I've been waiting for the Ice Cream Sandwich update for a while. Then it came out last week…then it didn't, and it was due out for last Saturday (6/23). Saturday came and went with no update – and oh, it wasn't an over the air update, it required using the Samsung Kies software. The update finally showed yesterday (6/24) after 8:00PM. The first attempt at the update threw an error, because the battery was pretty low – around 40%…even though to get the update, the phone is plugged in anyway….?… After some charging, the update took about 20 minutes, and was successful.
Update: Here's the update process with screen shots.
Update: Here's a running log of changes\new features.
A few things I noted right off the bat:
The lock screen looked a little different
The default font is a bit different – looks sharp
The backup and restore was successful, so all apps and files were retained
All of the pages and icon arrangments were lost which was annoying, but easily recreated – needed to be cleaned up anyway
Here's a few screenshots:
The battery issue may or may not have been resolved – too soon to tell. It was farily intermittent – but there were days where I would get to 5:00 in the afternoon and have less than 40% of battery remaining. Here's earlier today: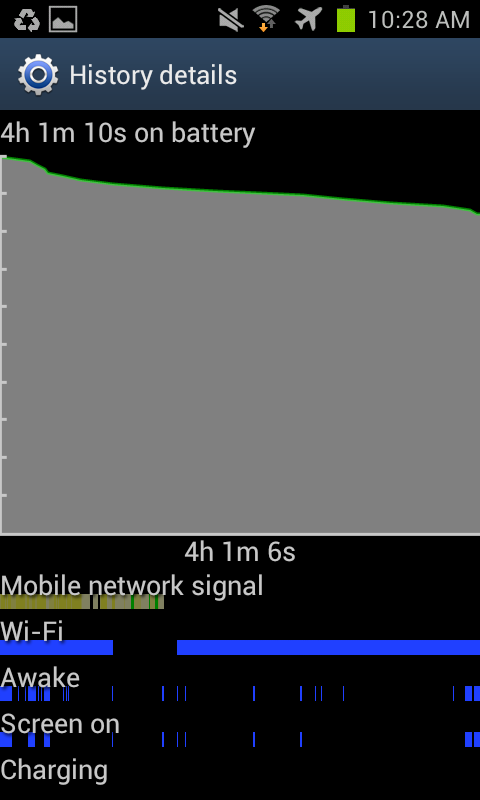 And after 12 hours, 15 minutes (now) I'm only down to 66% battery, so hopefully it's sorted.