This post will cover upgrading the NetScaler code from 10.5 to 11 – more specifically, this covers upgrading from NetScaler 10.5 build 55.8007.e as discussed in my previous post here. The upgrade process is fairly straight forward – download the firmware from Citrix, then login to the web GUI under System, and select 'Upgrade Wizard'.
Let's get started with the upgrade wizard:
If you have performed a NetScaler upgrade before, this is nothing new – select the location for the firmware file: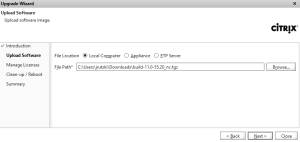 Next, verify the licenses you have already installed, and begin the upgrade. One important note since this upgrade is coming from an 'e' release to a standard, or 'maintenance' (non-e) release, you will see the following warning: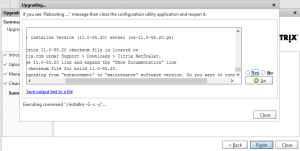 The upgrade went very smoothly and very quickly. Since I had been using some of the upcoming features in the 'e' release that ended up being named 'unified gateway', these settings were preserved in the form of an already configured Unified Gateway: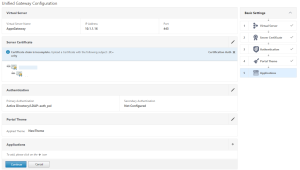 Other key things to note – the upgrade has turned back on SSLv3 support on the Gateway vServer…however, it has enabled support for TLSv1.1 and TLSv1.2 which was missing from the 8007.e release. Nice!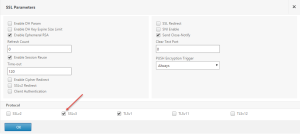 You will also notice in the Gateway vServer configuration some of the new features for NetScaler 11 including EULA and portal theme configuration (CSW policies already existed in the 8007.e build).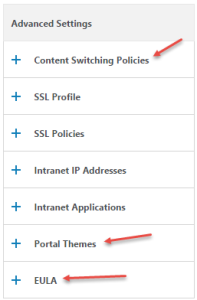 Modifying the Access Gateway look and feel is FINALLY possible within the GUI: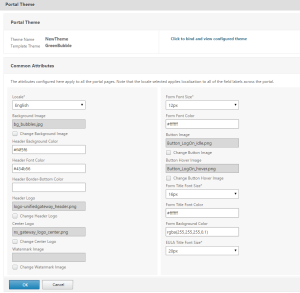 The base 'Green Bubble' theme looks much the same, just with the different 'Unified Gateway' verbiage. Coming soon I will modify the theme to match the new StoreFront 3.0.